DogWatch of Northeast Wisconsin
It's all about your dog!
DogWatch® of NE WI LLC was established in 2007 and is located in Green Bay, WI. Owner Jason Bouchea took over this area from a previous DogWatch® dealer that serviced the area since 1991. Jason is a devoted animal lover and has over 20 years experience with several brands of hidden fencing.  Find out for yourself and call Jason for a free in-home estimate with no obligation and realize why DogWatch® of NE WI is simply the best... no getting around it.

Most of our customers look at Jason as the "Whisperer" of hidden fences. Using DogWatch® brand and 20 years experience, it's a sure thing your dog will stay in the yard, guaranteed. We upgrade all brands to DogWatch® or we can service your wire no matter what brand of equipment you have. Our first and foremost commitment is to provide you with the best product on the market, cleanest and most secure installation, and superior service that no company in the entire industry can match.

So call us at (920) 431-9180 or toll free at (866) 761-3647. Don't forget to like our page on Facebook and you will get rewarded!!
Service Area
We provide services to customers in the Northeast Wisconsin area, including the towns and cities of Algoma, Appleton, Denmark, De Pere, Green Bay, Greenville, Hortonville, Kewaunee, Manitowoc, Menasha, Neenah, New London, Plymouth, Pulaski, Seymour, Sheboygan, Sturgeon Bay, Sister Bay, Two Rivers and Valders, Wisconsin and the surrounding area.
Get a Free In-Yard Estimate!
Our representatives will meet you at your home for a free in-yard estimate. We will help assess your needs and customize a solution that suits both you and your pet. Call today or schedule an appointment to get things started!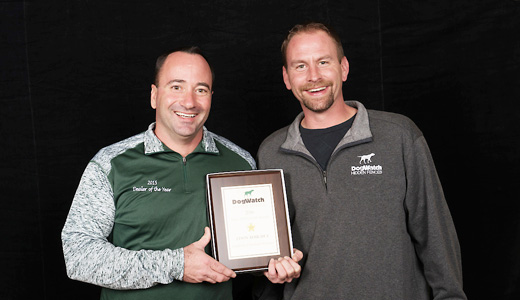 Why Choose DogWatch of Northeast Wisconsin?
1. Our number one concern is the safety and well-being of your pet. We provide the support you need to ensure successful training and happy containment.
2. We provide a proven PetFriendly™ training program. We train your dog (or cat) to recognize the boundary flags and the audible warning signal (or vibration) before introducing the correction.
3. We are experienced professionals committed to providing excellent customer service and support. We strive to service every customer promptly and courteously.
We want to hear about your experience! Write us a review on Google+
Simply the best. No getting around it.™
Another reason to choose DogWatch of Northeast Wisconsin is that we are an authorized DogWatch dealership. The DogWatch Hidden Fence is the most technologically advanced and the easiest to use, and it is backed up by a no-hassle Lifetime Warranty from a company with more than 25 years of keeping pets happy and safe.

What makes us Simply The Best?
---
Customer Testimonial
"You were just out here for a service call. From the time of requesting service, you were here in less than 4 hours. Words cannot explain in how happy we are with our fence, your training, and customer support. We strongly considered your major competitor, but due to their less than truthful, pushy, and negative selling tactics we are so happy we went with you."
Luanne Gartske