What People Are Saying About DogWatch of Northeast Wisconsin
Nancy B.
"Lily and Daisy are doing great with the fence. I truly never thought it would be that quick and easy to train them. I also liked your GENTLE way of training them. I would definitely recommend you and your product to anyone who is looking into purchasing a hidden fence system. Thanks again."
We want to hear from you! Write us a review on Google+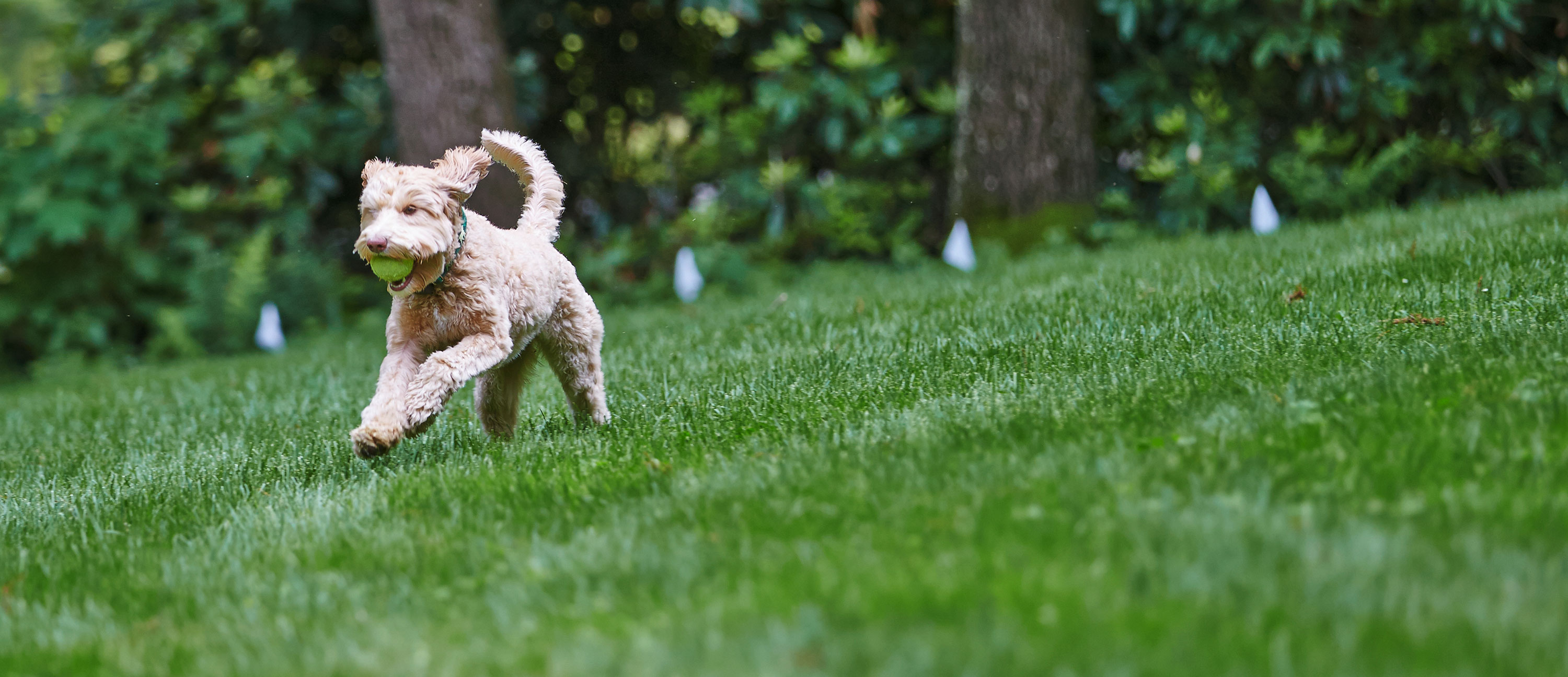 S.L. Iverson
"Dear Jason,
I wanted to write a letter to let you know how appreciative I am of your service and how you have gone above and beyond all my expectations. Not only are you very knowledgeable about your business, but you definitely put me at ease and took away any concerns I had about the training and safety of my dog.
Our Initial consultation with your no pressure approach and giving me all the informtaion I needed to make an informative decision convinced me not to search for any other underground fence company. Your extra follow up training visits to make sure my dog was safe on Mason St., ( HWY 54) , your concern for your customers, and your true enjoyment for your business are very apparent and gave me complete confidence in the choice I had made.
I was very skeptical of an underground fence being the right choice for my dog, he is very stubborn and does not respond well to the bark collar he has. You explained the differences and assured me of your 100% guarantee that there would be great results. With your helpful training and insight into the psyche of a dog, the results have been nothing less than spectacular. Before, I couldn't let my dog out of the house without supervision and if he was not leashed I would be chasing him around the neighborhood. Now I let him out the door and when I come back 15-20 minutes later, he is patiently waiting for me to let him in. I can leave him outside, unsupervised with total piece of mind. I Love the double blink feature on the collar, so can tell if he is  "testing the waters" and keep a closer eye on him.
I could write pages of all the things that were done right, but I wanted to make sure you know that it was because of you, that we decided to go with Dog Watch, and are completely satisfied with the decision we made. I will definitely recommend you to everyone who wants to put in underground fencing, not only because of the product, but because of the thorough and excellent customer service that you provide."
Rick,Brooke, Mia and Luna
"Things are going great with Mia and Luna!
Thank you so much for your excellent guidance. Guess the breeder was wrong, Tibetan Terriers can be kept safe with a Dog Watch Hidden Fence!"
Mark Bullard
"Just an update to let you know our hound Sophie, who you trained back around Thanksgiving, has done just fine with the DogWatch fence and has turned into a wonderful addition to the family. She still challenges the fence now and again ( how can you resist a possum after all?!) but does not cross it. She is great with the kids and now that she has settled down she is doing much better on obedience as well.
Thanks again for your help. Glad you were right and I was wrong about her being trainable.
Please don't hesitate to use me as a reference if you'd like. Your service has been outstanding!"
Wendy and Don Beilfuss
"Hi Jason,
Well you made believers out of us!  After two years of frustration chasing after Jingles and Benny, I can't tell you how great it is for them to roam so freely.  If DogWatch didn't work they would have been confined to a much smaller space with chain link fencing.  Now they can run around over 2 acres without a care - for them or us.  They are a couple of happy boys!  They are also getting a lot of exercise.  Life is good for all of us!
Thank You so Much!"
Laura and Pete Seroogy
"Thank you so much for installing and training our DogWatch system. We just love it! There is nothing more enjoyable than having our dogs out in front with us or even not worrying about what they are getting into in the back. My flower beds look much better now that they are not allowed in there! The training made a noticable difference! It also helped with the jumping up and house training.

Thanks Again."
Karen Cashman and Dave Stubenvoll
"Dear Jason,

I am writing this letter in regards to the recent purchase and installation of our hidden fence system. When Dave and I contacted you to set up an appointment we had also contacted two other local vendors from the area. After our meeting, my husband and I both looked at each other and said "that is the guy who is going to put our fence in". You were very patient in answering all of our questions and your customer service skills were outstanding! The other two vendors spent little time with us and one vendor didn't even walk the perimeter.

We are very pleased with the fence! We have peace of mind knowing that our dog is safe from the busy highway and bicyclists that frequently ride by. In addition, we want to thank you for your assistance in helping us choose a puppy that fit our lifestyle. In closing, please add our names to your list of referrals."
Nancy Burke, Lily and Daisy
"Hi Jason

Just to let you know that Lily and Daisy are doing great with the fence. I truly never thought it would be that quick and easy to train them. I also liked your GENTLE way of training them. I would definitely recommend you and your product to anyone who is looking into purchasing a hidden fence system.

Thanks again."
Luanne Gartske
"I am not one to take time out and write letters of recommendations, but in this case I must. You were just out here for a service call. From the time of requesting service, you were here in less than 4 hours. Words cannot explain in how happy we are with our fence, your training, and customer support. We strongly considered your major competitor, but due to their less than truthful, pushy, and negative selling tactics we are so happy we went with you.
It has been over two years since you trained our two Springer Spaniels and they have never gone through the fence. We have NEVER even paid for a battery yet. When speaking to your competitor they explained that it was impossible to have a two year battery life, WOW were they WRONG. Your two year battery life is closer to 3 years now. The status light will tell us whenever Vos gets too close chasing birds, squirrels, rabbits, and our kids going down the driveway. Your system is truly amazing. Since you were out here, you came back to help us with a barking issue and your training tactics took immediate action giving us immediate results. It has been less than a month and the barking is under control.
To anyone considering a hidden fence, Jason under promises and over delivers.  When you were selling us your system, we never thought it would go like you said, but it did. It actually went better!! Thank you so much for making our relationship with our dogs better!!"
Lisa Selner, Meadow Drive Depere
"Dear Jason:

Thank You for taking the time to explain the quality and care your company ensures with the DogWatch Hidden fence system. I am extremely happy with the choice to use your company over your competitors.

This was an enjoyable experience with your dog friendly training program. You addressed all of my questions and concerns regarding my pet's safety and happiness. I am pleased to say my family is completely satisfied with the results and would recommend your services to family and friends."
Dan and Judy Daul
"Dear Jason,

Just a note to let you know that the little white flags are starting to be removed and all is well with Dewey and Gadget. They know where the boundaries are and do not stray. Yesturday I removed a pine tree from my south lawn and Dewey spent the entire day outside with me. Dogs and people walk by, a thirty kid group of Bellin Run trainers ran by and Dewey never thought about leaving the property. Now, instead of a dog to watch, I have an outdoor companion to share my day with. I was, probably, the biggest skeptic when you described your system, and remained skeptical til your last 2 or 3 training sessions, but now I am a firm believer. Your system is great, but your techniques for training are nothing but short of amazing.

Thanks again!"
Tell Us Your DogWatch Story!
We'd love to hear from you, too! Please consider filling out our customer feedback survey to tell us about your experience with DogWatch.